Is it too late to launch a CBD business in the US?
Consumer interest in CBD products has been on a steady rise since 2016, and in response, the offer has gradually increased contributing to the availability of CBD products over the last years, up to the point in which it seems to be that the CBD market has exploded.
Currently, CBD is considered a New Dietary Ingredient (NDI), and the review process is slow for NDI notifications. This gray area and complicated legal status have led to a complete lack of oversight. This situation allowed all sorts of disreputable CBD brands to open shop, but they will not last. 
That's why we can confidently say that it's not too late if you are committed to developing a trustworthy, high-quality CBD brand.
1.Understanding the Law
 Understanding the Law and Comply with the Laws and Regulations Regarding CBD Business should always come first,
In the States, the federal government considers hemp-extracted CBD products as legal, which are made from industrial hemp. CBD Products are considered legal to sell as long as it's active THC level doesn't cross the authorized threshold of 0.3%. In Europe, this percentage should not be higher than 0.2%, although the European Parliament has voted to meet US regulations.
Checking on your State/Country legislation before entering the business is crucial reports like the one from The World Law Group can keep you up to date on where do Countries stan when it come to these type of regulations.
Business Documents
To sell CBD online you will need to obtain two types of licenses:
A regular business license: get incorporated and register a business with your state to start operations. Also, request an EIN/TIN for your newly created company from the IRS.

A Reseller license: If you plan to purchase CBD from wholesalers, you may also need to get a Reseller's license (certificate) from your state. This document is hugely important because it allows you to buy products wholesale without paying sales tax. The license also lets you collect sales tax from your customers afterward.
2.Understanding your market
CBD consumers are far from the cannabis consumer stereotype, even recreational cannabis consumers are far from the cannabis consumer stereotype. So you need to pay attention to your real market. CBD enthusiasts are looking for new ways to boost their cognitive function, tackle a particular health-related issue, or simply feel more relaxed.
According to the Brightfield Group, CBD is used by all age groups but is most popular among the young. CBD use is distributed relatively amongst various income groups. Americans are very familiar with CBD, although the overall percentage of people who have tried it is relatively small (17%), a percentage that reinforces our statement that there is still a huge space for market growth.
People seek this product mainly because preliminary clinical research has shown that CBD has anti-inflammatory properties, helps to reduce anxiety and stress (minus the high), improves the quality of sleep, and boosts cognition.
3. Selecting the Products
The list of products you could include in your brand portfolio is wide, in the next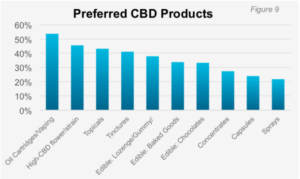 image you can see the popularity of the different CBD products available in the market. If you match this information with your preferred market niche you might have a clear path forward.
There are different ways to deliver consumer-facing products, you could get in touch with a white label type of company, or you could use the dropshipping business in which you don't even need to touch the product, or you could manufacture the product yourself buying active components as Isolates or Distillates and bringing them into your production line. Each one of the prior options has its pros and cons depending on your specific situation.
Dropshipping, White Label, or Manufacturer?
If you are within the States, already have a great network, a defined niche, and great marketing skills, then Dropshipping or White Label might be the right choice for you. Shipping within the states simply works, Hemp farmers are federally regulated and prices within the States are very competitive.
If on the other hand, you are outside of the States, then probably the best option is to purchase directly the Isolates or Distillates at a very competitive price from the States and include them into your production line as it own CBD line of product, that way you will avoid all the Customs hassle and gain much more control over the production.
4. Find the Right Supplier
As we stated in this article the quality of your products will depend on several factors, for example, if you are selling nationwide, you need to ensure that you are selling hemp-derived CBD,  not marijuana. The latter contains a higher THC dosage, making them legal only in a handful of states. The problem, however, is that there's no affordable testing for determining the levels of THC in the plant. This can make purchasing raw materials from a farmer challenging if neither you nor they have the capabilities to test the crop.
Reputable wholesalers, on the other hand, typically do lab testing and can provide certificates of analysis (COA), detailing the product content. Not being able to provide one is a major red flag.
You can also ask the provider to help you customize your product formula, by stating what's your end product and its components, and they should be able to help you define a customized formula.
5. Build your E-commerce Website
Find the best E-commerce integration for your store like Shopify, Woocommerce, or Bigcommerce and integrate it with your Website, using templates can help you to significantly reduce the time spent in the design. Remember that your website is a living organism that needs to be kept updated and fed with content.
Other important decisions are the Payment Processor and the Shipping Solutions, given the fact that the CBD industry is classified as "high risk" due to the ongoing regulatory debacle, many payment processors choose to exclude CBD sellers to minimize their operational risks. But you are not completely out of options. To accept payments from customers, click here to know more about how payment processing works for CBD companies.
6. Launch and Market your Business
Once you have followed all the previous steps you will be ready to launch your business, so the next step is to market.
Organic and Paid Efforts should always go hand in hand. Creating interesting blog posts following the SEO best practices will always come a long way when it comes to build trust and leverage the site authority.
Brand Ambassadors can get you access to their vast social following while helping you spread your message, this needs to be closely monitored because the way that they portray your brand will affect the inferred idea of your products.
You can always ask customers to leave genuine reviews on your products on your blog and social media pages in exchange for discounts or other benefits.
Takeaways
There are several pros and cons to entering such a thriving industry as the CBD one, we recommend always do your research, use the best suppliers and keep improving, evolving, and re-investing in your brand.
Trust is the business we are all in so we recommend working to build that trust from the very beginning.